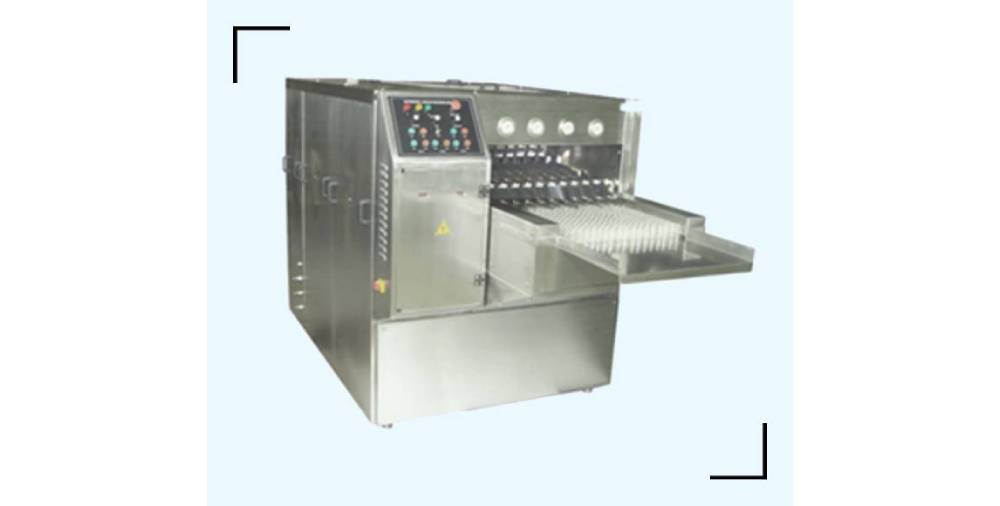 Discriptions
'GMP's Rotary Vial Washing Machine is compact and highly efficient machine with elegant look. This multifunctional multi featured machine meets the GMP requirements of washing for glass vials. The machine operates on the rotary principle with "GENEVA" mechanism and requires manual loading and unloading of vials.
Operation
The vials are loaded on the subsequent indexing part of rotating platform and are cleaned in series of operations. Specially designed vial holders provided to hold vials with neck diameter. The vial are placed in an inverted position in these cup shaped holders. Spraying showers does the external cleaning of the vial. Solenoid valves are provided to enable the regulation of wash timings, it also spraying water when vial are stopped means insure saving of water, and sequence of various washing media to suit specific requirement.
Technical Specifications

Model

GRVWM-64

GRVWM-96

Out put / Hour*

2600 to 6000

4300 to 9000

No .of Container Holder

64

96

Direction of Machine**

Clock wise

Electrical Specifications**

Main Motor

0.5 HP / 415 Volts / 50 Hz

Pump Two Nos.

1 HP x 2 = 2 HP / 415 Volts / 50 Hz

Electrical Heater

3 Kw.

Tank Capacity

75 Ltrs. S.S. 304 (2 Nos.)

Wash Cycle

4 Inner+1 Outer (Inner wash sequence are inter changeable)

Working height

860 to 910 mm
Salient Features
Geneva Mechanism

Four inner (Included one air wash) & one outer.

Sequence of washes to customer's choice.

Easy operation

Stationary nozzles eliminate contamination of water cycles.

Easy loading and unloading.

Individual solenoid valve for each washing sequence, that eliminates carbon plate and other accessories reduce leakage and maintenance to minimum.

Higher capacity centrifugal pumps to wash bigger vials.

The stationary nozzles avoid chipping of vial necks.

Pumps and tanks are mounted on portable stand for easy maintenance.

Vial guide system especially for lightweight vial.

Pumps and Tanks are mounted on Portable stand for Easy Maintenance.

Separate panel control to avoid any short circuit due to spraying of water.

S.S. glycerin fill pressure meter.