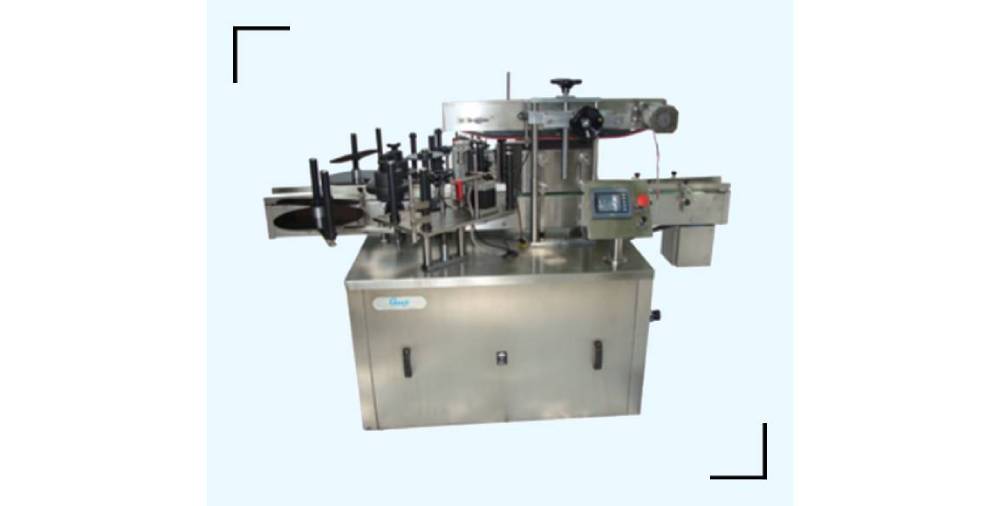 Description
"GMP's" Automatic Two Side Flat Sticker Labeling Machine is one of the most users friendly. The machine is used for two sides labeling on flat surface of different size of flat container. It is capable to labeling up to 150 containers per minutes depending on products and label size. The automatic model is equipped with belt spacing device.
Operation
The round containers positioned & curate spacing between two containers by the belt spacing device and a belt drive mechanism hold the container from top of the container for two sides labeling on flat container at the labeling point, an electronics product sensor sense container & relies a label from self adhesive label roll. If machine is equipped with batch printing device in that case batch printing device prints the batch no. & other matter on label during label is stationary means time between sensing of two label. The sensed round container moves on conveyor sticker label at labeling point wrapped around to container. Then the labeled container moves further through a rubber pressing belt & stationary rubber pad that ensures neat & perfect fixing of label.
Technical Specifications
Direction of Movement

Left to Right

Output/Hour*

3600 to 9000 Nos.

Electrical Specification**

Conveyor Motor

0.25 HP, 230 Volts, 50 Hz

Pressing device motor

0.25 HP, 230 Volts, 50 Hz

Sticker Roll SERVO motor

6V DC X 2 nos.

Height of Conveyor**

860 mm to 910 mm

Machine Dimensions**

2135 mm (L) x 1750 mm (W) x 1450 mm (H)

Case Dimensions

2350 mm (L) x 1950 mm (W) x 1650 mm

Net Weight

450 Kgs.

Gross Weight

750 Kgs.
* Depending on the size of container, label & glue.
** We can supply as per customer requirements.
*** With help of change parts.
* Depending on the size of container & label size. ** We can supply as per customer requirements.
Salient Features
High Production Speeds.

Suitable for any type of Flat Container.

Container hold from top for perfect & accurate labeling.

Stainless steel 304 construction.

GMP design.

Accurate label placement.

Full Security Package including counter.

Secondary pressure unit.

PLC touch screen system.

99 product data storage

No change parts requirements.

Very less down time for change over.

Suitable for Glass, Plastic, Pet, Tin, Corrugated containers.
Optional
Online printing device.

Online inspection of batch no & printing.

Acrylic cabinet.

Servomotor instead of steeper motor
Utility Requirement
Electrical supply : 1 Phase + Neutral + Earthing
Electrical load : 2 KW
Air Pressure : Minimum : 6 bar pressure 0.5 CFM for printing device.