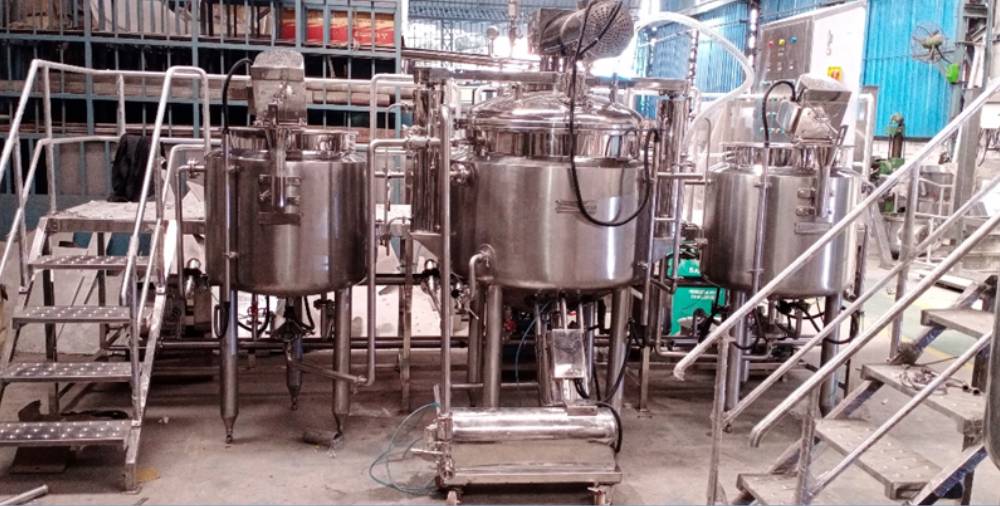 GMP Automatic Ointment Manufacturing Plant is made as per WHO & US FDA standards to manufacture Ointment / Lotion / Cream / Tooth Paste / other emulsions & homogenizations. This is a completely closed vessel with agitator mounted on top / Bottom dome.
The vessel will be available with different accessories for different applications i.e. standard stirrer / magnetic stirrer / as required by the customers.
The Ointment manufacturing plant consists of :
Manufacturing Vessel

Wax Phase Vessel

Water Phase Vessel

Storage Vessel

Vacuum Pump

Control Panel

Working Platform

Material Transfer Pump to Transfer material from manufacturing Vessel OR Planetory Mixer to Storage Vessel & Storage Vessel to Ointment ( Tube ) Filling M/C. ( 02 nos.)
Unique features of oral liquid manufacturing plant are:
All material transfers are done by vacuum or by transfer pumps.

All the vessels are cGMP (paint free construction)

The gaskets used are of food grade.

All contact parts are of S.S. 304 quality material (SS316 provided on demand) & mirror finished and is crevice free.

The entries of all agitators are from top & High Speed Emulsifier from bottom or as per customer choice.

All pipes, pipe fittings and valves are of SS304 / SS316 (as per customer requirement) seamless quality, with tri-clover ended joints.

All values of temperature & time of the plant are indicated digitally on the control panel.

All the inlet & outlet connections are provided with tri clover joints, which are very easy for cleaning & replacement.
Capacity
From 100 litres To 1500 litres.

Steam / Electrical Heated