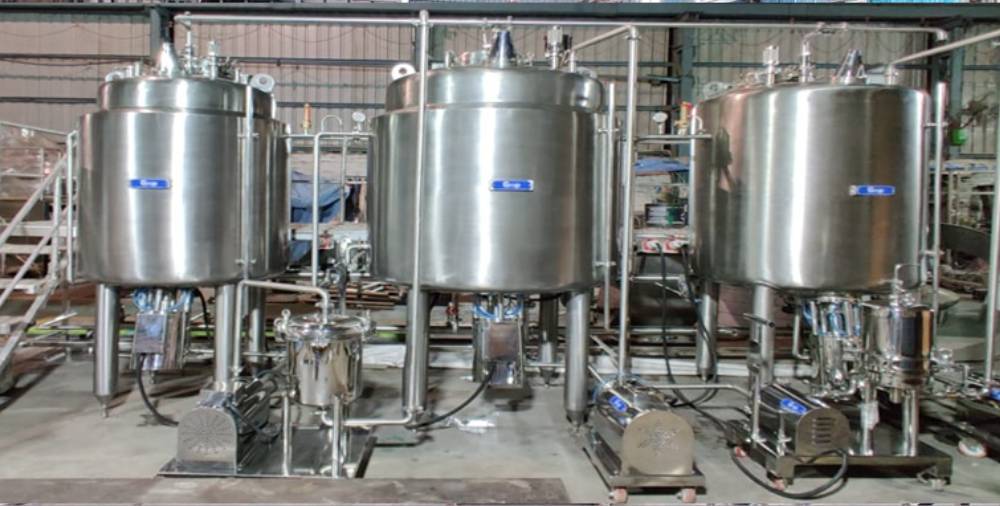 Description
GMP Automatic Liquid Manufacturing Plant is made as per WHO & US FDA standards to manufacture Syrup / Suspension / oral / external liquid for pharmaceuticals. This is a completely closed vessel with agitator mounted on top / Bottom dome. The vessel will be available with different accessories for different applications i.e. standard stirrer / magnetic stirrer / as required by the customers.
The liquid manufacturing plant consists of :
Sugar syrup vessel.

Online sugar syrup pre-filter.

Manufacturing vessel storage vessel

Vacuum system for transfer of sugar and sugar syrup.

Product piping.

Control panels.

Transfer pumps.
Unique features of oral liquid manufacturing plant are:
All the vessels are interconnected with pipeline and the process is fully automatic, untouched with Electrical / PLC Control.

CIP/SIP available.

The oral liquid manufacturing plant is designed to be operated by one operator and one helper, saving on precious man- power cost

Sugar syrup is transferred to manufacturing vessel through online sugar syrup prefilter.

Entry of all propeller agitations are from bottom / Top through a specially designed seal face.

Pipes, pipe fittings and various are of SS 316, seamless, internally electropolsihed with DIN standard unions and silicon gaskets.
Capacity
From 500 litres To 3000 litres.

Steam / Electrical Heated