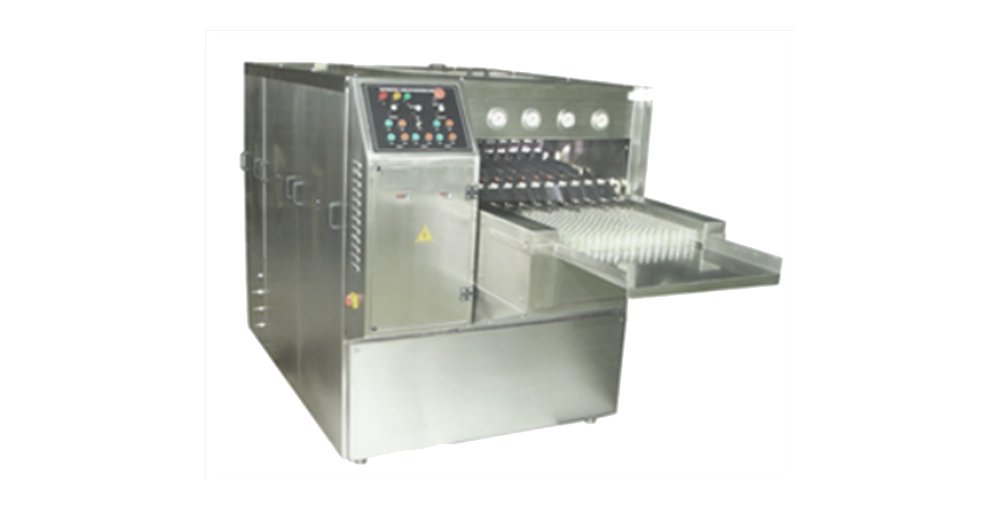 Description
'GMP's' Gum Labeling Machine automatically paste labels on round container of glass, plastic, aluminum, pet, cardboard container and wrap-around labels in the vertical position by using cold glue. This machine is rigid, versatile and engineered for reliability and enhance operational efficiency in addition, it has several exclusive features which offer additional advantages.
Operation
The round containers are positioned accurately by the feed worm for wrap-around operation at the operation at the labeling point, the rotating glue cylinder receives clod glue from gluepot that subsequently gets transferred on the Glue Rubber Roller. Finally a fine, even and thin film of glue is transferred to the gluing pad. The round container on the moving conveyor at the feed worm actuates a sequence, which result in the oscillation of the Label Box. The rotating Label Master aligned with the help of pick up fingers from the Label Master & with oscillating Label Box. The pick up cylinder receives labels with the help of pick up fingers from the label master. The pick up cylinder holds the labels perfectly with due to vacuum during its rotational movement. Simultaneously the pick-up fingers move inside. The round container moves on conveyor with the help of worm and glued label on pick-up cylinder wrapped around to container by virtue of strip belts. Then the labeled container moves further through a rubber pressing belt & stationary rubber pad that ensures neat & perfect fixing of label.
Technical Specifications
Direction of Movement

Left to Right

Output/Hour*

3600 to 9000 Nos.

Electrical Specification**

Main Motor

0.75 HP, 415 Volts, 50 Hz

Vacuum Pump

0.5 HP, 415 Volts, 50 Hz

Height of Conveyor**

860 mm to 910 mm

Machine Dimensions**

3010 mm (L) x 1060 mm (W) x 1170 (H) mm

Case Dimensions

3250 mm (L) x 1250 mm (W) x 1200 mm

Net Weight

550 Kgs.

Gross Weight

900 Kgs.

Change parts required

(A) Container: Feed Worm.
(B) Label: Label Muster, Upper – Lower Plate, Pusher Plate.
Input Specification
Label Specification

Length**

20 mm to 140 mm ***

Width **

16 mm to 100 mm

Roll Diameter

Max. 300 mm X ID 75 mm

Space between two label

Min. 3 mm in anti clock wise.

Container Size**

Round Shape

Ø 22 mm to Ø 100 mm

Respectively height 40 mm to 240 mm (Height option for other bottle height available)
* Depending on the size of container, label & glue.
** We can supply as per customer requirements.
*** With help of change parts.
Salient Features
Stainless Steel cladding or hard chrome plating of all exposed parts to ensure long life and resistance against corrosion.

Adjustable Conveyor Height to align with other machine of the line.

Minimum changeover time is required from one size of container or label to another.

Special self-aligning bearing ensure smooth and trouble free rotation of the parts. These self-aligning bearings help in quick assemble during periodical maintenance of the unit. They also allow more flexibility in maintaining tolerances.

No container, No label, an electrical sensing device avoids wastage of labels, it also helps in keeping the unit neat & clean.

Minimum changeover time is required from one size of container or label to another.

Suitable for overlap labeling an flag type labeling where the length of label is more than circumference of the container.

A highly efficient vacuum pump develops sufficient vacuum to hold labels big or small on the pick-up cylinder.

Complete protection of the motors is ensures by the contactors and relays of appropriate ratings.
Optional Accessories
Code Over Printing Device.

A/C Frequency Drive for speed control.

Safety Guard.

Digital Counter for out put of container.

Attachment for flat bottle.

Special design for Long label up to 165mm length & 120mm width.

Water truff to keep wet gum roller & muster.
Utility Requirement
Electrical supply : 3 Phase + Neutral + Earthing
Electrical load : 1 KW